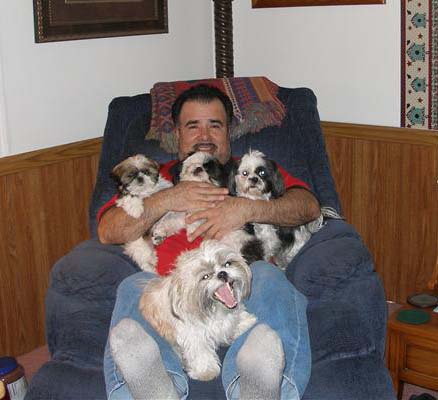 John with all the Shih Tzu girls!
Royal Haven began with our first Shih Tzu, Sophie. We fell in love with the breed and have since "added" to our family with the addition of Lily (from Sophie's first litter) and Mia (from Sophie's second litter). All our girls love kids and people. They are not yappy dogs and are happiest when they are sitting on our laps, or touching us in some way.
Shorkies do not need a lot of extra exercise, they can get all the exercise they need just running through the house and playing with their toys. Shorkies are great travelers and because they are so small, you can take them with you almost anywhere you go.
Please enjoy our website and feel free to contact us at any time! We look forward to hearing from you.
A big thanks to everyone who purchased our Shorkie puppies! I am happy to report they have all gone to wonderful homes. Please continue to check our website as I am going to try and update it with pictures of the puppies as they get older. We are also planning to have more Shorkies in the future.
John and Deena Leal
Manhattan, MT

(406) 284-4242